Board Evaluations Made Simple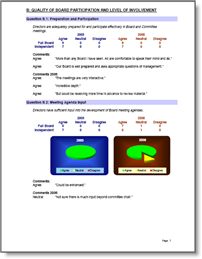 An annual checkup means a healthier and more effective board.
Spend a little time and improve your board's effectiveness. Whether you are a Fortune 100 multinational, a private company or a non-profit organization, if you have a Board of Directors you should be reaping the benefits of board and 360 assessments.
In addition to our in-depth facilitated assessments, we also provide a simplified self-evaluation survey process that saves you time. It's convenient, confidential, customizable and cost effective.
Click here for more details...
Independent In-depth Board Evaluations
Want to make your meeting time even more effective? We provide in-depth board evaluations customized to your needs for the full board, committees and individual members, from design and consultation to reporting and facilitated discussion of findings. They provide the governance committee and the board with confidence in a convenient, painless process run by governance experts.
Our effective board assessment processes are customized and can include:
Confidential document review and analysis

Confidential interviews

Board meeting and committee attendance

Customized facilitated discussions

Actionable reports and action plans
Spend a little time and, in the long-run, save even more -- by making your board processes work for you. We are happy to discuss your needs and the process that will make the most valuable use of your time - in and out of boardroom.
Build a Bridge of TrustTM
Our Mission
To improve board and company performance in a way that creates sustainable value for all stakeholders and builds a bridge of trust between management, board, shareholders and all stakeholders.
Board and Executive Education
"I am forever changed and couldn't feel more empowered!"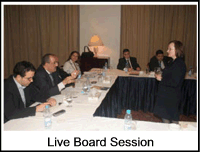 Facilitated conversations on a range of topics:
Board governance

Audit committee practices

Enterprise risk

Valuation & strategic insights

Executive compensation

Public policy

Stakeholder relations

Future trends

Sustainability
Online education also available.
Featured Publication by Eleanor Bloxham
"Required reading for the board of directors of every U.S. corporation."
Economic Value Management:

Applications and Techniques

John Wiley & Sons

Wiley Finance Series
Stay Up to Date and Join the Conversation
Sign up here for the free publication read by directors and executives world-wide
Corporate Governance Alliance Digest
Eleanor Bloxham talks with Tom Lehner about the Business Roundtable's 2005 guidelines on shareholder director communications here.
Recent News and Publications
April 18, 2014
Eleanor Bloxham is interviewed by Elizabeth Dexheimer on bank bonuses for Bloomberg.
April 4-6, 2014
Eleanor Bloxham is interviewed by Matt Krantz on rising CEO pay for USAToday.
March 27, 2014
"Facebook's hypocritical approach to transparency" is published by Fortune/CNNMoney.
March/April 2014
Eleanor Bloxham is interviewed by Morgen Witzel on the future of capitalism for Corporate Finance Review.
March 19, 2014
"Shareholder research firms are not the enemy" is published by Fortune/CNNMoney.
March 14, 2014
"A lazy, expensive way to intimidate shareholders" is published by Fortune/CNNMoney.
February 28, 2014
Eleanor Bloxham is interviewed by Dan Rodricks on compensation and governance on Maryland public radio.
February 27, 2014
Eleanor Bloxham is interviewed by Kaja Whitehouse on board conflicts of interest for The New York Post.
February 24, 2014
Eleanor Bloxham is interviewed by Ian Thomas on buybacks and shareholder activists for Agenda.