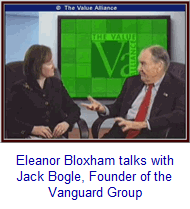 Globalization, technology, and rapid changes in expectations from multiple stakeholders: being a director or senior leader has never been more challenging.
To meet the challenges that directors and senior leaders face today, Conversations that Build a Bridge of TrustTM is an educational library of conversations led by strategic governance authority Eleanor Bloxham, with directors and CEOs of major Fortune 500 and smaller firms, and the world's most powerful stakeholders, including institutional investors and the Presidents and policy heads of the major governance and professional organizations today.
Designed to increase board and company performance and build a bridge of trust between board, management, shareholders and all stakeholders today, over 800 video programs, related transcripts and selected video groupings are available in this library.
Topics include globalization; innovation; strategy; public policy; board structure and governance; board, management and stakeholder relations; board and CEO evaluations; board and executive compensation: strategy; performance management; succession planning; enterprise risk management; corporate social responsibility and environmental social governance; audit and internal controls; financial reporting; ethics and tone at the top; investigations; and regulations; among others.